Relationships between healthcare providers and patients have a level of complexity that goes beyond any other business interaction. With decreased time allocated for face-to-face patient-provider interaction, it has become increasingly difficult for healthcare providers to maintain a 360 view of the patient just by observing EHR information. When managing a large number of patients, each with very personal sets of requirements, it is essential to share the care plan with all other providers involved, with all caregivers and authorized family members.
Care coordinator view of the patient on Salesforce Health Cloud.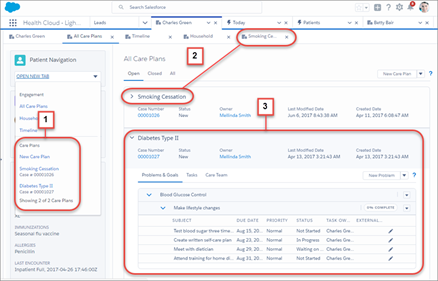 Care Management tools in Salesforce Health Cloud can enable access to complete patient stories, for all parties involved in the patient healthcare journey. Care coordinators can track valuable details related to patient history, without missing important indicators, by prioritizing tasks and viewing dashboards such as Today Page. Out-of-the-box analytics tools such as Einstein can be leveraged to filter patient population by risk score, age, lab results and more. Data from integrated electronic health records can be analyzed to get a 360 view of the patient for clinical and non-clinical engagement from the health timeline option.