Our solutions
There are several benefits to using the Salesforce Health Cloud and Salesforce Marketing Cloud for your healthcare organization: 
1. Automation
By automating patient acquisition and retention, you will reduce the man-hours to manually input data into your existing CRM or client database, make phone calls, or send out patient communications through email or direct mail. 
2. Physician Referral Management To Acquire New Patients. 
By using "smart" physician referral management, you'll more easily identify referring physicians that are sending you more new patients than others through intelligent segmentation. With this valuable information, you may decide to build deeper relationships with physicians that are generating more revenue for your practice through their referrals.
3. Customized Data Through Intelligent Dashboards 
In addition to referrals, targeted campaigns across multiple channels will likely result in a multitude of different leads and patient information to be organized and followed up with at a later time.  Regardless of how leads come through your doors, they can be compiled and accessed more efficiently by using intelligent dashboards, leading to shorter lag times in following up with new patients.  If you are funneling prospects through your website, they can be routed to the appropriate department with health assessments questionnaires and recommendations for next steps to book their appointment.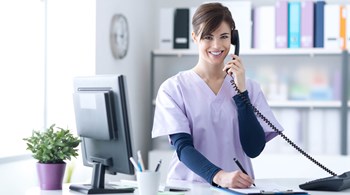 4. Make An Impact With Personalized Support. 
A prospect's first point of contact with your practice is their first impression of what it's like to be a patient. If they are left on hold for extended periods of time, or speak with customer service reps that can't answer questions or need extra time to find the right answer, you'll lose potential patients (and revenue) in the process and they'll likely look elsewhere to get the care they need. 
In order for patients to be assisted promptly, your staff must be equipped with tools that will empower them to answer every question with the highest level of confidence and accuracy. By integrating with your back-end systems and by accessing a complete view of the patient, your staff will be empowered to answer all questions accurately.
Salesforce solutions implemented by Six Consulting can help your organization make a great impression with intelligent personalized support.